Cruise into an Electrifying Future
---
Advanced Certification in

Automated & Electric Vehicles
With Nexus at the University of Michigan Engineering
Start My Application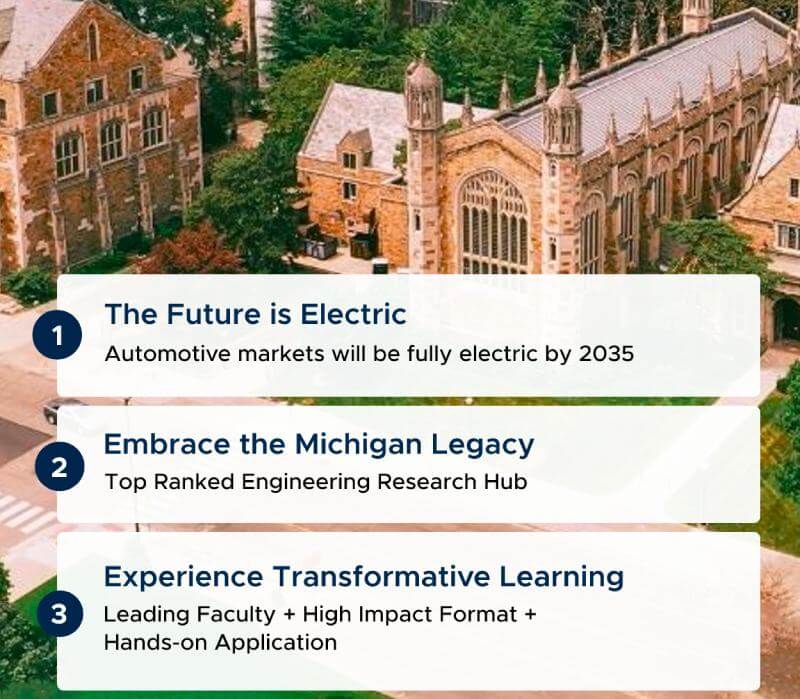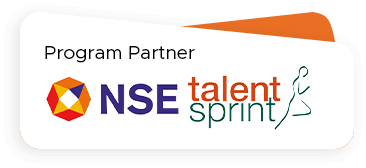 1The Future is Electric

Leverage the fast-evolving electric and automated vehicle market
100% Automobile industry
to go fully electric by 20351
10 Mn Jobs to be created by the Indian EV industry by 20302
40-70% Salaries head north across diverse roles in the EV industry3
2Embrace the Michigan Legacy

Top Ranked Automotive Engineering Research Hub
Home to Mcity by U-M, the key driver of mobility transformation in the USA
#1 in "Automotive Manufacturing Strength" as per Business Facilities Magazine (2021)
GM ropes in U-M to leverage its top-tier testing facilities for EVs
3Experience Transformative Learning

Leading Faculty | High Impact Format | Hands-on Application


Pioneering Faculty

Acknowledged practitioners and research scientists lead the sessions
University of Michigan
#3* Top Public University
in U.S (2022)
#25** Ranked among Public universities in the World (2023)
502 New Innovations
Reported (2021)
640K+ Global Alumni
Network
University of Michigan is one of the earliest American research universities and a founding member of the Association of American Universities. As a major research center it is ranked 2nd among American universities in research expenditures and produces a large proportion of the country's publications and citations. It has been consistently ranked among the top universities in the United States by college and university rankings. In international comparison, the university occupies top positions in rankings and enjoys a distinguished academic reputation. It has produced Nobel Prize laureates, Turing Award laureates, and Abel Prize laureates. To know more, visit U-M site.
*U.S. News & World Report 2022-23
**QS World University Rankings 2023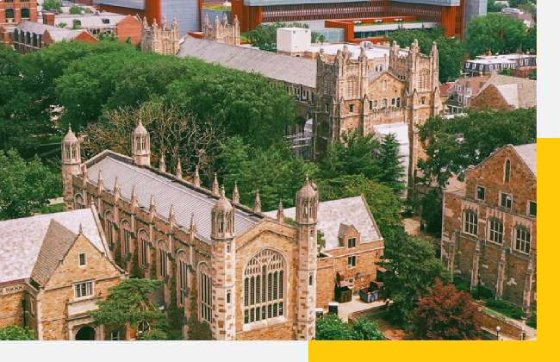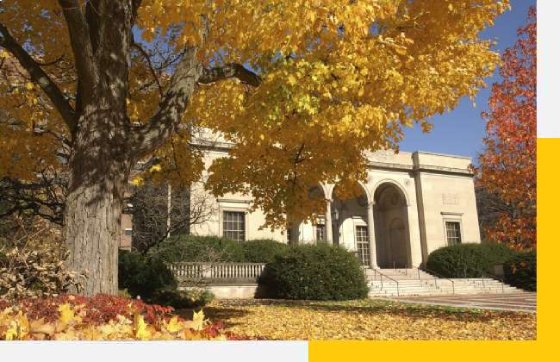 Nexus at the
University of Michigan Engineering

Leader in online graduate engineering education

50+ Years of Industry Collaboration
The Advanced Certification in Automated & Electric Vehicles will be delivered by Nexus at the University of Michigan Engineering. Nexus supports continuing education through its professional programs from the Nexus at the University of Michigan Engineering. To explore, visit Nexus website
Cutting-edge Curriculum
The state-of-the-art curriculum, designed by world-renowned experts.
Hybrid and Electric Vehicles
Basic Battery Concepts Part 1
More Basic Concepts Part 2
Factors Affecting Battery Performance
Introduction to Li-ion Batteries
Degradation Mechanisms in Li-ion Batteries
Advanced Devices for High Energy and High Power: Li-air Batteries and Ultracapacitors
Overview and Introduction
Impacts on Auto Industry and Current Status
Major Hybrid Technologies
Major Components – Principle, Current Status, Outlook
Vehicle Control Hierarchy and Power Management Algorithms
Control and Design of Power-Split Hybrid Electric Vehicles
Summary and Outlook
Overview Parts 1-3
Equivalent Circuit Models for the Lithium lon Battery
1+1D Electrochemical Model
Battery Thermal Modeling
Data Collection and Model Parameterization
Vehicle Energy Management Functions
State of Charge (SOC) Estimation
Battery Cell Balancing
Battery Charging Standards and Algorithms
Power Limits, Cold Temperature Performance
Lithium ion Battery Safety Issues
Battery Aging
Introduction and Electric Machinery Fundamentals
Power Electronic Fundamentals
Fundamentals of Control
DC Machines
DC Machines Drives
AC Machines I
AC Machines II
Surface Mount Permanent Magnet Machines
Surface Mount Permanent Magnet Machine Drives
Reluctance Machines
Interior Permanent Magnet Machines
Induction Machines
Induction Machine Drives
Connected and Automated Vehicles
Introduction
Adversarial Machine Learning Overview
Adversarial Attacks on Machine Learning Models
Physical Attacks on Machine Learning Models
Short Intro to (Non-Adversarial) Machine Learning
Types of Machine Learning Problems: Regression and Classification
Linear Regression: Training and Loss
Linear Regression: Model Fitting Using Gradient Descent
Classification
Neural Networks
Adversarial Attacks on Neural Networks
Advanced Attacks
Physical-World Adversarial Attacks
Defenses: Making Models Robust Against Adversarial Attacks on Neural Networks
Introduction and Human Driving Behavior (without reaction time)
Human Driving Behavior (without reaction time) - Part 2
Human Driving Behavior (with reaction time delay)
Vehicle Dynamics and Automation - Part 1
Vehicle Dynamics and Automation - Part 2
Adding Connectivity to Automated Vehicles - Part 1
Adding Connectivity to Automated Vehicles - Part 2
Connected Vehicle Networks
Safety, Energy Efficiency, and Robustness
Experiments with Connected and Automated Vehicles - Part 1
Experiments with Connected and Automated Vehicles - Part 2
Connected Vehicles: What? Why? How?
Deep Dive into DSRC
Why AV? and SAE AV levels and Examples: Part 01 & Part 02
Sensors: Uses and Challenges of Radars, Lidars, and Cameras
Intro to AV: Part 01
Intro to AV: Part 02
AV Testing, Standards and Regulation
Introduction and Understanding the Total Impact
The Potential for Behavioral Changes
Serving Those with Existing Mobility Limitations and Mobility Equity
Changes in Operator Knowledge and Understanding
Safety Consideration with Vehicle Automation
Seamless Integrated Mobility Systems and Challenges in Establishing One
Capstone Project
Projects from U-M
Mentoring by TalentSprint with U-M support
Project presentation to U-M faculty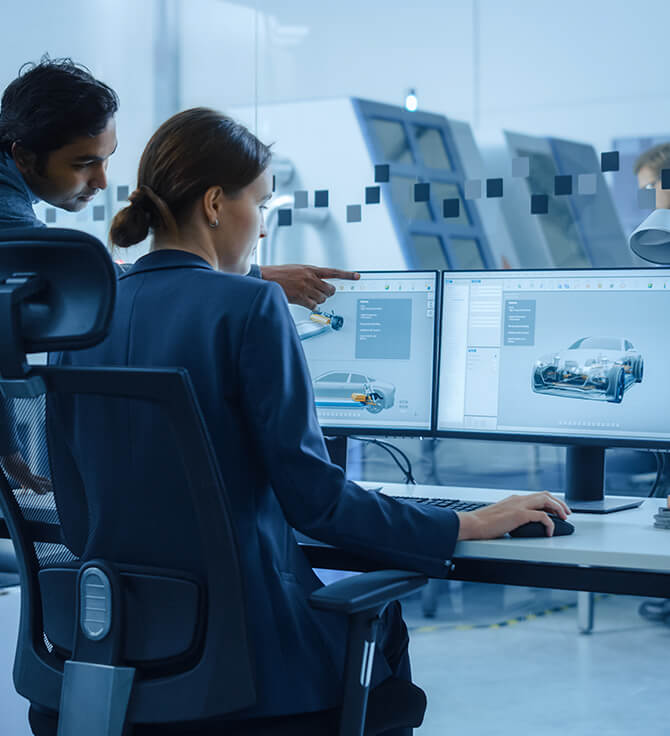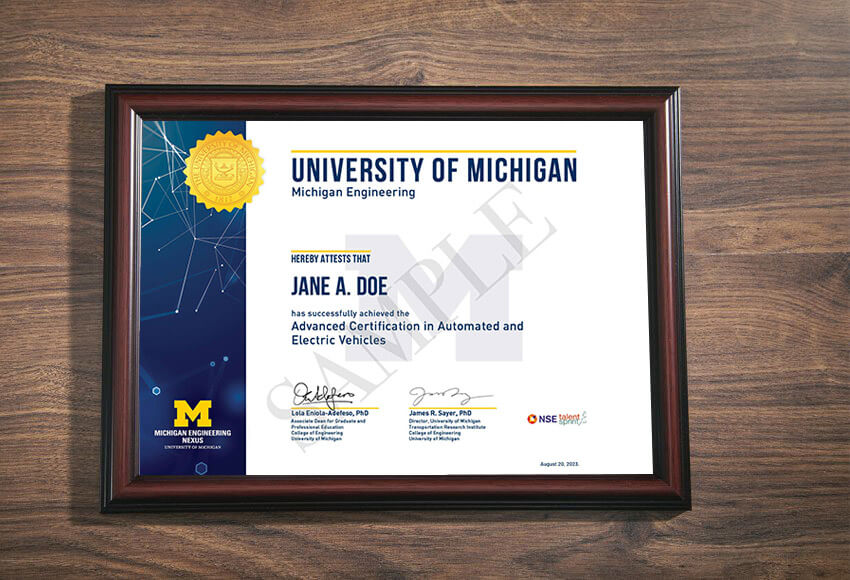 Program Outcomes
A deep knowledge and expertise in automated and electric mobility will open doors to career acceleration and organization growth.

Be at the forefront of EV Mobility solutions in your organization

Advance your career in the fast-evolving mobility industry

Globally recognized certification from Nexus at the University of Michigan Engineering
Learning Impact
Deep dive into the major aspects of electric vehicles—fundamentals, trends and technology outlook of mobility
Advance your understanding of design, analysis, and development of hybrid and electric vehicles
Get introduced to the global cutting edge R&D projects on connected and automated vehicle
Career Impact
Develop an in-depth understanding of electric and automated vehicles
Explore opportunities in the fast-evolving EV and automated vehicle industry
Empower your team to design requirements and challenges of the present and future mobility solutions
Create sustainable, high-performance mobility models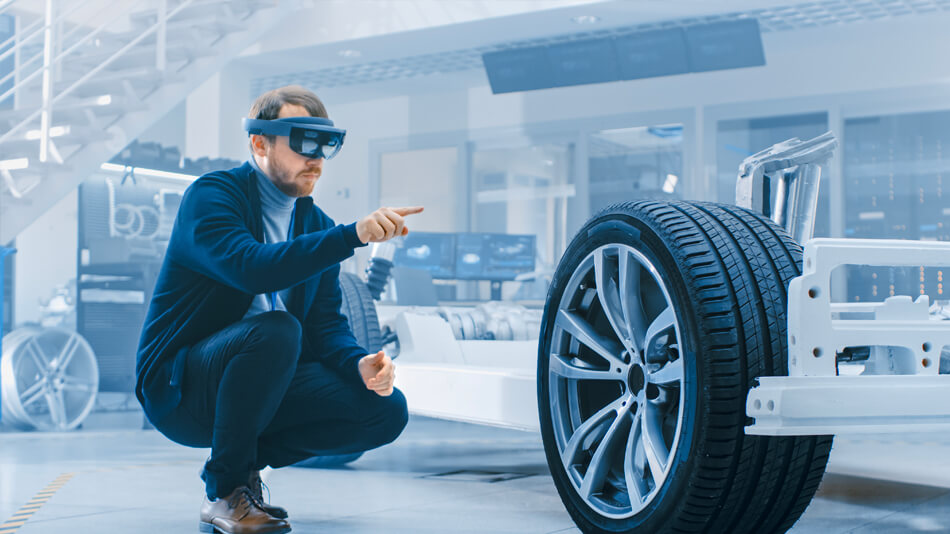 Who is this program for?

Professionals in automated and EV industry looking to master the latest advancements to tap into global opportunities

Mechanical/Electrical Engineers and Automotive Technicians who want to work on automated/electric mobility solutions

Auto enthusiasts passionate about designing alternate models that will considerably reduce carbon footprints
Eligibility
Minimum Qualification: B.E/B.Tech/M.E/M.Tech or equivalent degree with a minimum 50% marks
Experience: Minimum of 2 years of professional experience.
Field of Experience: Professionals from mechanical, electrical engineering or allied areas will be preferred.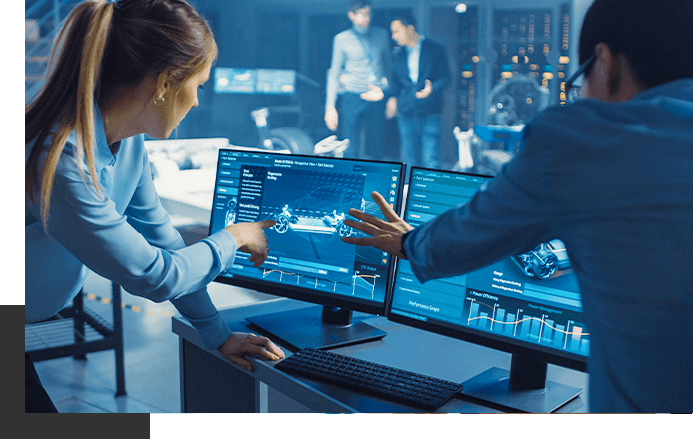 Resources
Use these resources to learn more about the program
About TalentSprint
Established in 2010, TalentSprint is a part of NSE group and a global edtech company that brings transformational high-end and deep-tech learning programs to young and experienced professionals. The company's digital learning platform ipearl.ai offers a hybrid onsite/online experience to seekers of deep technology expertise. TalentSprint partners with top academic institutions and global corporations to create and deliver world class programs, certifications, and outcomes.Its programs have consistently seen a high engagement rate and customer delight. It is a leading Innovation Partner for the National Skill Development Corporation, an arm of the Ministry of Skill Development and Entrepreneurship, Government of India. A recipient of various prestigious accolades, TalentSprint was recently honored with the Indian Achievers Award 2022, for its excellence in building deeptech talent in India. For more information about TalentSprint, visit www.talentsprint.com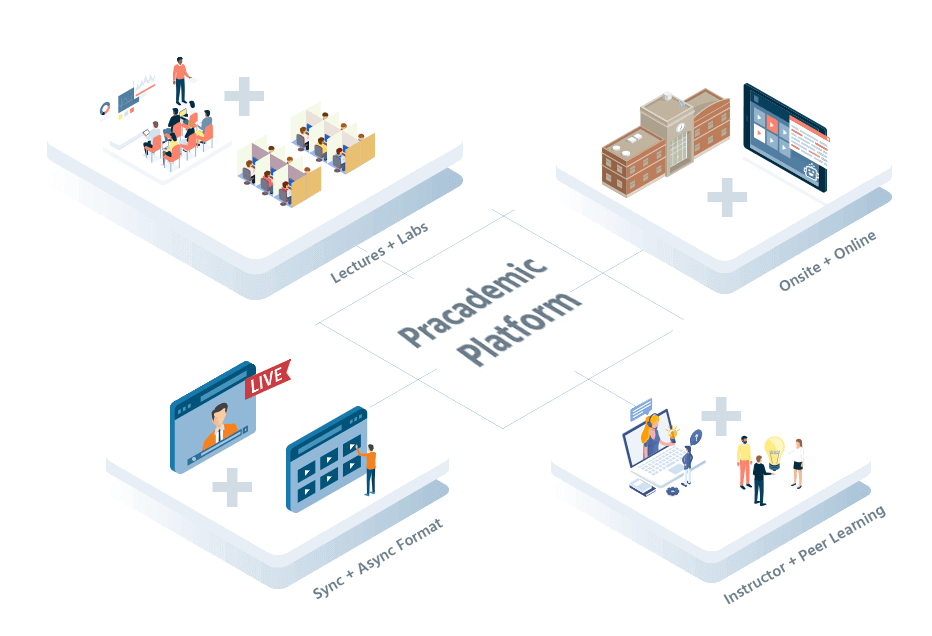 Frequently Asked Questions
The automotive industry is undergoing a massive transformation. By 2035, cars will be more connected, autonomous, shared, and electric. And this opportunity to transform the way we move results from emissions, congestion, and safety issues mounting worldwide. Above all, the global automotive industry is attempting to decarbonize the planet.
However, as the auto industry evolves, it will also broadly impact the job roles and functions of professionals within the industry. To stay in sync with this switch to eMobility, professionals need an in-depth understanding of the design, analysis, and development of automated, hybrid, and electric vehicles.
The Advanced Certification in Automated & Electric Vehicles Program by Nexus at Michigan Engineering will help you build the required expertise and gear up to navigate the future of mobility.
Electric vehicles (EVs) have been making headlines in the last few years. But it is only now that they have attracted interest, innovation, and investments. While the sector's growth is picking up, another pivotal aspect that needs immediate attention is talent and capabilities.
Considering the growing demand for EVs, organizations need professionals savvy in designing and functioning of EVs and automated vehicles. Although the automotive sector has a sizeable talent, most lack the niche expertise and understanding needed for automated and electric mobility.
To help professionals leverage the growth and opportunities, Nexus at Michigan Engineering, in partnership with TalentSprint, has launched the Advanced Certification in Automated & Electric Vehicles Program. A uniquely designed hands-on program that enables industry professionals to stay relevant in this fast-evolving automotive industry.
The University of Michigan is at the forefront of promoting mobility transformation. Its key zones - Mcity, Michigan Mobility Transformation Center, and other initiatives created in collaboration with industry and government have made the university a 'Mobility Mecca'. U-M's constant endeavor and initiatives to work on mobility-related challenges make it one of the most trusted and sought-after institutions in the world for learners.
This is a LIVE and interactive online program with the potential to strengthen your fundamentals, inform new industry developments, and bridge the knowledge gap. Participants attending this program can benefit from the following.
Nexus at Michigan Engineering Advantage
Designed leveraging cutting-edge mobility research and innovation efforts by the institution
Taught by an expert group of acknowledged practitioners and research scientists from the Michigan Institute of Computational Discovery and Engineering
Globally recognized certificate from Nexus at Michigan Engineering
Transformative Pedagogy
Cohort-based effective learning with an illustrious global peer group
Faculty-driven LIVE Sessions by accomplished U-M Faculty + Self Learning
Experiential learning supported by expert mentorship, hands-on delivery format, assessments, and capstones
Career Impact
Showcase your expertise through projects and experiments
Network with an illustrious group of current and future mobility leaders
Upgrade your technical profile with a top certification
TalentSprint Advantage
Learn on TalentSprint's patent-pending Digital Platform
Network with 3000+ TalentSprint Deep Tech Alumni
Access TalentSprint Career Accelerator
Be at the forefront of EV Mobility solutions in your organization
Advance your career in the fast-evolving mobility industry
Globally recognized certification from Nexus at the University of Michigan Engineering
Deep dive into the major aspects of electric vehicles—fundamentals, trends, and technology outlook of mobility
Advance your understanding of the design, analysis, and development of hybrid and electric vehicles
Get introduced to the global cutting-edge R&D projects on connected and automated vehicles